Susan Covell Alpert is an author, speaker, entrepreneur, and frequent guest on national radio and television shows.
Also a successful businesswoman, educator, and serial entrepreneur, she lost her husband of 46 years to leukemia in 2008 and found herself drowning in a sea of paperwork that only compounded her grief. Believing that no one else should have to face the confusing legal and financial obligations of loss alone, she created her step-by-step methodology, as well as her first book, Driving Solo: Dealing with Grief and the Business of Financial Survival—a combination of the business and emotional journeys that come with the death of a spouse.
Susan's second book, Later Is Too Late: Hard Conversations That Can't Wait, tells the poignant tales of 12 women who endured great loss in their lives, and how they recovered and even triumphed. A two-part self-help book, Later Is Too Late includes a series of user-friendly, step-by-step worksheets to help the reader navigate his or her own sequence of preparation.
Susan has been the owner of several multimillion-dollar companies and has impressive experience in the fields of negotiation, finance, international services, and business. She holds a master's degree in psychology and education from Brooklyn College in New York, and devotes much of her time to guest speaking engagements and pro bono work on the subject of of grief and preparing for the future. Susan resides in Newport Beach and Palm Desert, California.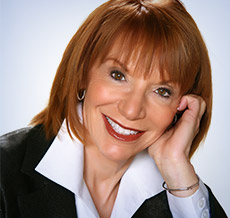 Whether you're thinking ahead to the future or currently coping with a profound loss, Susan Alpert's methodology can help. Her first book, Driving Solo, can help you gain control during a distressing time. Her new book,  Later Is Too Late, will help you protect yourself and your loved ones for the future.