In Later Is Too Late, Susan Alpert shares the poignant stories of 12 women (including herself) who struggled and ultimately triumphed in the face of loss—the death of a spouse, a sudden divorce, the incapacitation of a partner. This book includes a series of easy, user-friendly, step-by-step worksheets to help you navigate your own sequence of preparation.
A one-stop tool for practical and emotional support, Later Is Too Late covers all the topics that must be addressed when preparing for drastic change: household and family responsibilities; legal, financial, civic, and estate matters; the importance of self care; and the myriad of details that are too often overlooked, to disastrous results.
Also available on Nook and iBooks.
What Professionals Are Saying
"Susan's checklists and worksheets are the most comprehensive I have seen in my 46 years practicing in the estate-planning arena. Her stories highlight the need to plan, no matter your age."
Howard M. Koff, Westbury Enterprises LLC
"A beautifully written book that is a reminder that we don't always get to choose what may happen in our life, but we can choose to grow in wisdom as a result. Susan gives us such a gift in sharing these personal journeys so that we may be prepared for what life may bring us. A great roadmap for us as we navigate through life."
Megan Pierpont, Wealth Manager
"Later Is Too Late is a clearly well-conceived and well-researched manual. It gives us a guide to the practical details needed to take care of ourselves after suffering a significant loss. Having practiced divorce law and divorce mediation for over 28 years, I can't emphasize enough how useful this book is to those who have lost a partner to death or divorce. An added bonus is that by the time she has finished sharing her stories and those of her subjects in the book, we feel that we have made a new and wonderful friend in the author—one who cares enough about us to mentor us through a terribly difficult time of life. Read this book now, not later."
Randy Sue Morrison, Attorney
"A moving and poignant lifelong love story that serves as inspiration for life's second chapter—dealing with the loss of a spouse or parent. Later Is Too Late defines not only accepting one's own mortality and that of loved ones, but embracing the preparation to become both mentally and financially organized for it. A must-read and cornerstone for any prudent financial plan."
Brian T. Szytel, CFP®, Managing Director, Partner at HighTower Advisors LLC
"Later Is Too Late is a must-read for anyone who truly cares about their loved ones, friends, and colleagues. Susan Alpert has done a terrific job explaining in plain English how to plan for the worst in order to make a very difficult situation easier for all at the end of the day. As a trust and estate partner at a national law firm, I will be purchasing Susan's book and giving it to my clients on a going forward basis."
Carol P. Shaner, Trust and Estate Attorney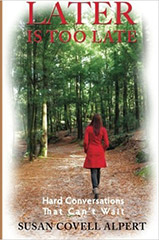 Can you really be prepared for death, divorce, or other major life loss? Emotionally, maybe not. But logistically—definitely yes. The problem is, even though we know we should be prepared, most of us procrastinate. We're too busy. It's too much work. It's complicated. I'm already prepared enough. And it's painful to even think about.